Directed by Daniel Kwan and Daniel Scheinert
5 Stars
A once-loving family is now facing its toughest time. Evelyn Wang (Michelle Yeoh) faces the brunt of the stress as the laundromat they live above faces an audit from the IRS whilst trying to plan a Chinese new year's party that will hopefully live up to the strict standard of her disappointed father Gong Gong (James Hong). This stress makes her unaware of the failing marriage and relationships with her husband Waymond (Ke Huy Quan) and her daughter (Stephanie Hsu). Although these seem like grounded problems to face, Evelyn is quickly thrown into a multiversal journey that ultimately creates the greatest movie ever made.   
Everything Everywhere All at Once is a beautiful movie that is so unbelievably creative even when it references several movies like The Matrix, The Fall, and even Ratatouille. This movie has an abundance of colour and bizarreness with writings that make a universe with hot dog fingers have an emotionally complex message. The dedication of this movie's actors is beyond award-winning. Michelle Yeoh, Ke Huy Quan, and Stephanie Hsu deliver cry-worthy performances that create a rollercoaster of emotions between joy and sadness. This movie's characters are incredibly relatable and has them fight t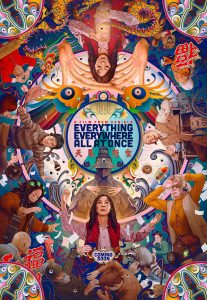 he troubling topic that is generational trauma and displays the idea to cherish every moment in sincere and creative ways. However, this movie contains just as much emotion as it does action. Every fight sequence flows like a ballet where every move and camera angle are more unique than the last. Most stunts are done by the actors themselves which makes every scene feel fluent and natural. Everything Everywhere All at Once is a magnificently crafted movie with balletic fight scenes and a crazy amount of emotional depth with deep messages and it is truly the best movie ever created. Recommended for ages 13+ 
Reviewed by Hiero V. 
View in Library Catalogue: DVD | Blu-ray Disc